efw
Below is a demonstration of the features of the efw function
Contents
Syntax
efw(hf);
Description
The efw function, the export figure widget, adds a push button to a figure toolbar to link with the export_fig function. Press the button to start exporting a figure. Users can specify file names, formats, resolution and also additional export_fig options.
The Export Figure Widget requires the external function export_fig created by Oliver Woodford and Yair Altman. It can be obtained from the Mathworks Central File Exchange:
http://www.mathworks.com/matlabcentral/fileexchange/23629-export-fig
Examples
Using the preloaded Export Figure Widget (efw) in cFigure
A cFigure window has the Export Figure Widget loaded by default. To use efw click on the icon in the toolbar.

Pressing the efw button will open a basic inputdlg allowing users to specify all the usual export_fig options. Hints are given in brackets behind the input labels. The default entries are altered according to the previous usage within the current figure.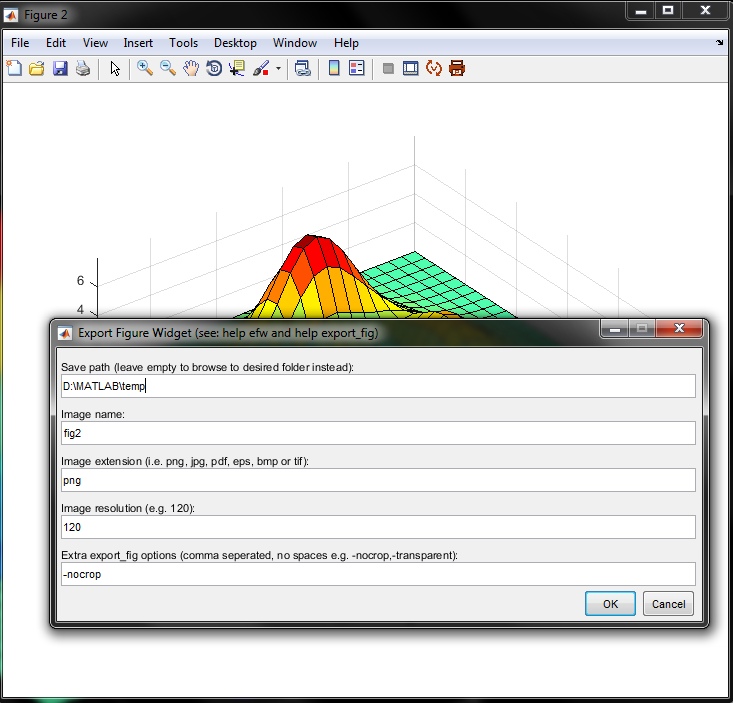 Use with figure
The default MATLAB figure does not contain the Export Figure Widget. To load it here the user must enter efw; either before or after axes are created. e.g.:
figure; surf(peaks(25)); axis equal; axis tight; efw;
which is equivalent to:
figure; efw; surf(peaks(25)); axis equal; axis tight;
Tip
You can create your own figure function that simply contains figure; efw; to create a standard MATLAB figure containing the Export Figure Widget.

GIBBON www.gibboncode.org
Kevin Mattheus Moerman, [email protected]